Khai Hoan fish sauce is made from Phu Quoc charcoal anchovies and Ba Ria Vung Tau sea salt, aged completely naturally in wooden barrels from 12 to 15 months according to traditional methods, quality management according to strict standards. HACCP standards are applied from the fishing process to the finished product.
Khai Hoan Phu Quoc fish sauce has a history of more than 200 years and is protected by geographical indications in the country and in 28 European Union countries. The product contains absolutely no additives or preservatives.
Price: VND 145,000
Volume: 520ml
Total nitrogen content: 43g/L
Amino acid nitrogen content: ≥ 50%
Origin: Phu Quoc Island, Kien Giang Province, Vietnam
Ingredients: Fresh anchovies, sea salt.
Usage: Used to dip meat, fish, vegetables; make fish sauce dipping spring rolls, fish sauce eaten with vermicelli; making broth; marinate meat and fish.
Storage: Store in a clean place, avoid direct sunlight, close the lid tightly after use.
Note: During the storage and use of the product, salt crystallization and color change from golden brown to dark brown may occur. That is the natural phenomenon of traditional fish sauce.
Manufacture & distributor: Khai Hoan Trading Joint Stock Company
Address: No. 289, street 30/4, p. Duong Dong, City. Phu Quoc, Kien Giang
EXP: 24 months from date of manufacture
Code: NM105
Production process of Phu Quoc's Khai Hoan Fish Sauce
1. Professional fishing for ingredients
Khai Hoan fish sauce brand is fully equipped with an anchovy fishing train and fish transshipment ship to a professional production facility. Fresh anchovies are caught by experienced fishermen of the island with a hundred years of tradition in fishing.
2. 100% traditional processing
After being carefully selected, the fish will be mixed with sea salt in the ratio at 3:1, which means every 3 tons of anchovies will be mixed with 1 ton of sea salt. This is the traditional ratio of mixing fish and salt, which has been applied since ancestors' time in Phu Quoc.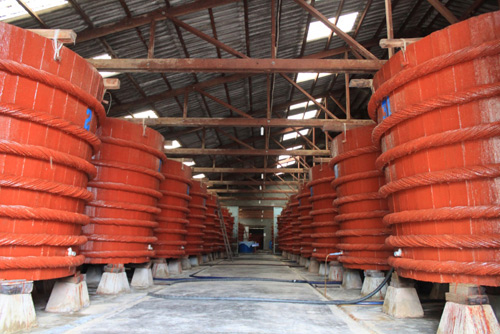 Khai Hoan fish sauce factory - the largest fish sauce factory on Phu Quoc island. (Photo: Phu Quoc fish sauce)
3. Incubated in "super" barrel house
After the above stage, the fish is put in wooden crates, reinforced with large "strings" made of wild rattan. A thick layer of salt will be coated on the fish and compressed. The fish will be incubated in these tanks for 12-15 months, then pulled and carefully mixed to produce the finished product.
4. Produce "perfect" finished product
From here, we will have the first sauce product, called fish sauce. By traditional method but using a closed and professional line, fish sauce will be bottled with Khai Hoan brand and distributed to consumers all over the country.
Source: Khai Hoan Phu Quoc