Despite what short term headlines might suggest, the long-term global dynamics driving demand for Australian red meat remain very positive, this morning's Australian Brahman Breeder's Association 'Brahman Beef for the Future' Conference was told.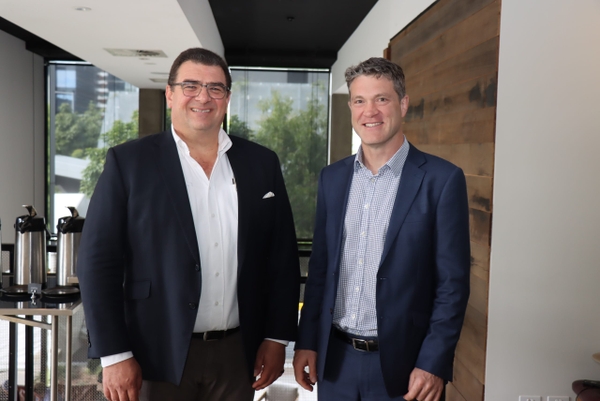 MLA MD director Jason Strong and Rabobank senior analyst Angus Gidley Baird at this morning's Australian Brahman Breeder's Association conference at the Ekka. (Image: BeefCentral.com)
Talking about what is in front of Australia's red meat industry looking forward, Meat & Livestock Australia managing director Jason Strong said it shouldn't come as any surprise for producers to hear that the outlook is "very positive".
"There is no reason to be otherwise, despite what you might see, or read, or hear," he said.
After a massive decline in national cattle numbers in 2018-19, the herd was now recovering faster than had ever been seen before, with higher than average rainfalls and increased temperatures still being forecast and underpinning the continuation of a positive production outlook.
The industry is also actually seeing a faster increase in the slaughter rate at the same time, which was being achieved through increased productivity.
This included a 37kg increase per carcase since 2019. Based on a dressed weight price of 810c/kg (conservatively below this morning's EYCI market level of around 900c/kg), that equates to an additional $300 per carcase in value.
Export value was also growing faster than might have been expected.
Despite less total export volume, Australia was returning more value for the product it is exporting.
"So we're growing our herd, we're increasing our turnoff, we're increasing our carcase weights, and we're actually doing that at higher prices.
"So the productivity position of the industry is incredibly positive, and there are some big underlying reasons for this."
One of the challenges facing the industry is that "we are continually surprised by our success".
But the industry had not arrived in its current strong position "by mistake", he said.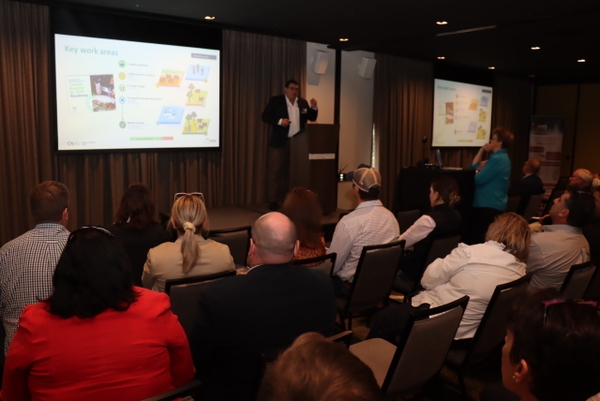 Jason Strong addressing this morning's conference. (Image: BeefCentral.com)
"The industry's had a series of strategic plans in place over the last 25 years and they have all been pretty ambitious…
"And what we're seeing at the moment in our current market environments and the current opportunities in front of us is the culmination of all of those efforts across our industry."
'We have to stop being surprised by our success'
A challenge industry analysts face is adjusting thinking around the materially different position the industry is in now, compared to 25 years ago, he said.
"So why are things going so well, and why do we see the type of successes that we actually in our outputs in the demand for our product?"
"One of the things I say quite often is that we have got to stop being surprised by our success, because this is what we have been planning for, this is what we make investments as an industry for."
25 years ago the industry did not have a traceability system, a quality assurance system, an eating quality system or very good market information, and Australia had just one free trade agreement with New Zealand.
Today, Australia has the best traceability system in the world, on-farm quality assurance, feedlot quality assurance, an eating quality system which covers 58pc of turnoff and provides a consistent quality product that goes to customers around the world, and market information which is effectively real time.
It also has 16 free trade agreements, providing preferential access into high quality markets with more discerning consumers who are prepared to pay more money for a consistent, high quality product, for which Australia could provide credentials that were as good or better than any other beef supplier in the world.
"That is what is driving the positive position for industry, and that has been the progression of what we have been investing in for 20 or 30 years."
He also urged people to look beyond simple statements that suggested prices must come down, simply because they have gone up.
"You look at a lot of our analytics and it will say, 'oh the price is going to come down'.
"Well how come?
"Because it went up.
"I'd like you to be more sophisticated than gravity when we're talking about these sorts of things, there is a lot more behind it, and there is so much strength behind the big macro drivers that are supporting our industry and our current position."
While it was easy to get distracted by short term factors, it was important to remember that the industry's bigger picture success was being driven by long term global macro drivers.
Australian beef ribeye. (Image: Australian Meat Group)
"There are only five or six big things that have made the material change in our industry, so we don't need 500 areas of work, we need to find what is the next thing that has the same impact as a free trade agreement, what is the next thing that has the same impact as traceability, what is the next thing that has the same impact as market information, for example.
"As a for instance, the FTA Australia has with the UK which is going through the UK parliament at the moment, and as soon as our current Government gets set up with their committees to review that it will go through the Australian parliament as well, on day one when that comes into force it is worth an extra $1 billion of market access, (for the red meat sector) over and above what we have now.
"That is why free trade agreements and those sort of things are incredible positve opportunities for us."
This morning's ABBA conference represented the return after three years of large face-to-face gatherings of cattle producers at the Royal Queensland Show, or 'the Ekka' as it affectionately referred to locally, in reference to its early title of "The Exhibition".
Author: James Nason
Source: BeefCentral.com