Rib tips are short, meaty sections of rib attached to the lower end of the spare ribs, between the ribs and the sternum. Unlike back ribs or spare ribs, the structure of the rib is provided by dense costal cartilage, not bone. Rib tips are cut away from the spare ribs when preparing St. Louis style spare ribs.
Price: VND 399.000 per kilogram
Average weight: 450g - 500g per pack
Packaging: Vacuum-sealed pack
Brand: Orfarm
Origin: Hoa Binh Province, Vietnam
Farming method: Effective Microorganisms (E.M.) Green
Manufacturer & Distributor: Thuy Thien Nhu JSC (Hanoi)
Farming facility: GPQR+XJ9, Phú Thành Ward, Lạc Thủy District, Hòa Bình Province
COMMITMENT TO THE QUALITY OF E.M. GREEN ORGANIC PORK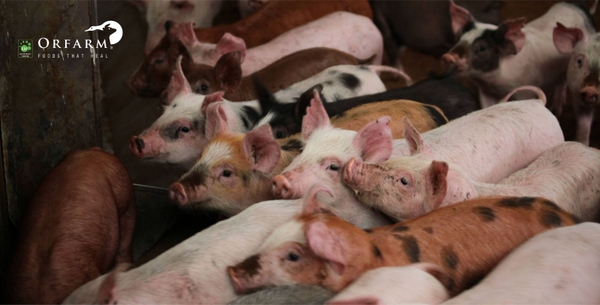 E.M Green organic pigs at Orfarm's farm.
1. PRODUCTION PROCESS
- Applying advanced Japanese microbiological technology to animal husbandry.
- Acquired EM Green certification by EMRO organization Japan and Food Safety and Hygiene by Quality Management Sub-Department of Agro-Forestry & Fisheries.
- Selected from healthy pig breeds: American Landrace pig & Mong Cai pig.
- Feed input is biological products from natural plants, using EM Green microbiological technology - NO growth chemicals, lean substances, chemical drugs, no water injection.
- The farm is cleaned and disinfected using EM Green technology: No waste - waste water - emissions.
2. PROCESSING & PACKING
- Humane slaughter according to European standards
- Using advanced freezing technology right after slaughter so bacteria cannot enter.
- Vacuum packaging, ensuring food hygiene and safety.
3. QUALITY
- NO residual stimulant chemicals and additives, toxic preservatives.
- Keep the original aroma and taste thanks to natural breeding.
- After processing, there is no loss of meat. The fat is white and crispy.
- Tested to reach the protein ratio of 23.12% - the nutrition is almost equal to that of beef.