THIS PRODUCT NEEDS TO BE PRE-ORDERED.
Vietnamese "H'mong" black chicken is one of the famous specialties of the Northwest mountainous region of our country, domesticated and raised by the H'mong ethnic people, classified as chicken breeds with high meat quality and even highest nutritional value of the current poultry breeds in Vietnam.
EM Green organic black H'Mong chicken at ORFARM is naturally raised using Japan's advanced microbiological technology EM Green. Thanks to that, Vietnamese "H'mong" black chicken meat has high nutritional value and does not contain any toxic chemicals, especially good for our health.
Price: VND 469.000 per kilogram
Average weight: 550g to 750g per pack
Packaging: Vacuum-sealed pack
Brand: Orfarm
Origin: Hoa Binh Province, Vietnam
Farming method: Effective Microorganisms (E.M.) Green
Manufacturer & Distributor: Thuy Thien Nhu JSC (Hanoi)
Farming facility: GPQR+XJ9, Phú Thành Ward, Lạc Thủy District, Hòa Bình Province
COMMITMENT TO THE QUALITY OF E.M. GREEN ORGANIC CHICKEN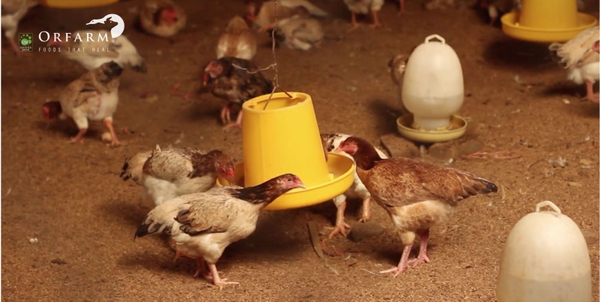 Organic chicken at Orfarm's farm in Lac Thuy District, Hoa Binh Province. (Photo: Orfarm)
1. PRODUCTION PROCESS
- Applying advanced Japanese microbiological technology.
- Acquired EM Green certificate of EMRO organization Japan and Food Safety and Hygiene of Agro-Forestry-Fisheries Quality Management Sub-Department.
- Selected from rare and endemic chicken breeds from Lac Thuy District, Hoa Binh Province.
- Feed input is biological products from natural plants using EM Green microbiological technology - NO growth chemicals, lean substances, chemical drugs, no water injection.
- The farm is cleaned and disinfected using EM Green technology: No waste - waste water - emissions.
2. PROCESSING & PACKING
- Slaughter in safe and hygienic conditions.
- Using advanced freezing technology right after slaughter so bacteria cannot enter.
- Vacuum packaging, ensuring food hygiene and safety.
3. QUALITY
- No residual stimulant chemicals and additives or toxic preservatives.
- Boiled in clear water, keeping the original aroma and flavor thanks to natural farming.
- High protein rate up to 24.2% - even more nutritious than pork and beef.