PLEASE PRE-ORDER.
Different from "chả lụa" (a popular type of Vietnamese pork sausage), lean pork sausage has a higher fat ratio in the ingredients, thus it is softer. When fried on a pan, it smells really good.
Orfarm's organic sausages especially do not contain any preservatives, artificial colors or additives.
Price: 379,000 VND per kilogram
Average weight: 200g to 250g per pack
Packaging: Vacuum-sealed pack
Ingredients: Organic pork, fish sauce, spices, etc.
Origin: Hoa Binh, Vietnam
Breeding technology: EM Green (Organic)
Brand: Orfarm
Supplier: Thuy Thien Nhu Joint Stock Company (Hanoi)
Instruction: To be taken on its own with fish sauce, or with white rice, fried rice, noodles.
Storage: Keep in a freezer.
COMMITMENT TO THE QUALITY OF E.M. GREEN ORGANIC PORK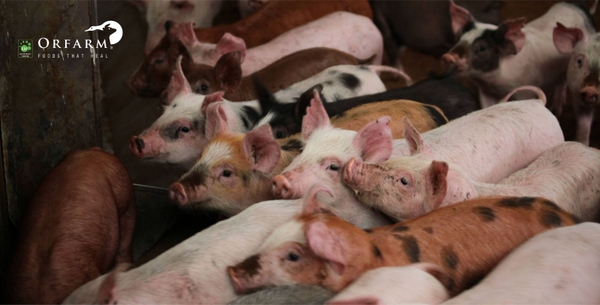 E.M Green organic pigs at Orfarm's farm.
1. PRODUCTION PROCESS
- Applying advanced Japanese microbiological technology to animal husbandry.
- Acquired EM Green certification by EMRO organization Japan and Food Safety and Hygiene by Quality Management Sub-Department of Agro-Forestry & Fisheries.
- Selected from healthy pig breeds: American Landrace pig & Mong Cai pig.
- Feed input is biological products from natural plants, using EM Green microbiological technology - NO growth chemicals, lean substances, chemical drugs, no water injection.
- The farm is cleaned and disinfected using EM Green technology: No waste - waste water - emissions.
2. PROCESSING & PACKING
- Humane slaughter according to European standards
- Using advanced freezing technology right after slaughter so bacteria cannot enter.
- Vacuum packaging, ensuring food hygiene and safety.
3. QUALITY
- NO residual stimulant chemicals and additives, toxic preservatives.
- Keep the original aroma and taste thanks to natural breeding.
- After processing, there is no loss of meat. The fat is white and crispy.
- Tested to reach the protein ratio of 23.12% - the nutrition is almost equal to that of beef.