Price of 1500ml 2012-Vintage Can: VND 1,280,000
Origin: Clare Valley, South Australia, Australia
Brand: Kilikanoon
Wine color: Red
Grapes: Shiraz
Preservation: Keep dry and cool, avoid direct sunlight
Production: Kilikanoon Wines PTY., Ltd.
Address: Penna Lane, Penwortham South Australia 5453, Australia
Importer: Viet Nang Pty., Ltd.
Address: No. 4, Tran Hung Dao St., Hoan Kiem Dist., Hanoi, Vietnam
Instruction: Drink directly without thermal usage. May take together with red meat, smoked salmon, cheese or snacks.
Certificate No: 11775/2017/ATTP-TNCB
AWARDS
- Kilikanoon is one of the Clare Valley's best producers. Australian Producer of the Year at Mundus Vini in 2017 and consistently rated 5 Stars by James Halliday.
- Kilikanoon Killerman's Run Shiraz 2015 won Gold at Mundus Vini 2017. The 2014 vintage won 2 Gold medals at the China Wine and Spirits Awards and was awarded 93 points by James Halliday.
TASTING NOTE
PLACE
Clare Valley.
The Killerman's Run Collection is masterfully composed from Kilikanoon's diverse vineyard sites and sub-regions, delivering an elegant and approachable style.
WINEMAKING
Our Killerman's Run Shiraz has been crafted through careful fruit selection, traditional winemaking techniques, sixteen months maturation in new seasoned French oak hogsheads and bottling unfiltered to fully enhance the wines character and appeal.
SENSORY
Colour: Brick red in colour with youthful crimson hues.
Aroma: Lifted aromas of red fruits, dark cherries, exotic spices and seductive French oak char enliven the senses.
Palate: Beautifully crafted, texturally rewarding yet possessing perfect balance and linearity, the flavours of dark cherries, hints of smoked meats and red fruits seamless combine with the fine boned tannins and subtle oak nuances in a long and persistent finish.
ANALYSIS
Residual Sugar: 1.8 g/L
Alcohol: 14.5% v/v
CELLARING
Potential of at least 12 - 15 years.
MUNDUS VINI GRAND INTERNATIONAL WINE AWARDS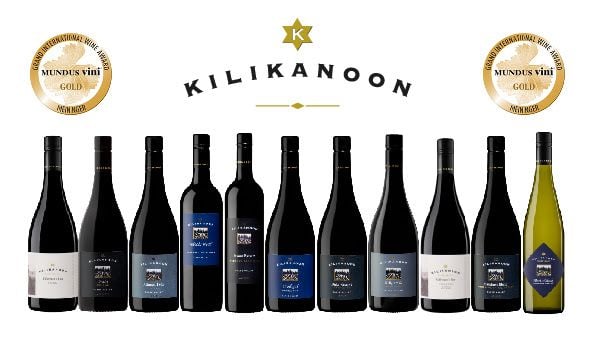 Kilikanoon is proud to announce our overwhelming success at the Mundus Vini Grand International Wine Awards by taking home 11 Gold Medals, and the coveted status of Australian Winery of the Year for the third time in 8 years (also won in 2010 and 2017).

The jury was made up of well respected and reputable personalities from around the world including excellent sommeliers, recognized specialty retailers with above-average knowledge of wine, specialist journalists and scientists.

Gold medals are only awarded to the best rated wines within a group, which means Kilikanoon consistently impressed the tasting panels with masterfully composed cuvees. Being awarded Australian Winery of the Year once again highlights Kilikanoon's dedication and uncompromising commitment to quality and style that has made the brand so successful.

A full list of our Gold Medal winning wines is below:

Shiraz
Cabernet Sauvignon
⍟ 2015 Blocks Road Cabernet Sauvignon

⍟ 2013 Tregea Reserve Cabernet Sauvignon
Grenache
⍟ 2014 Prodigal Grenache

⍟ 2013 Duke Reserve Grenache

⍟ 2013 Kelly Grenache
Grenache Shiraz Mataro
Riesling
⍟ 2016 Mort's Block Watervale Riesling