Original price: VND 1.450.000 per bottle (without gift box)
HIFOOD's price: Please contact us for more information
Gift box's price: VND 150.000
Gift box material: Grey board
Volume: 750ml
Origin: Clare Valley, South Australia, Australia
Brand: Kilikanoon
Type of wine: Red wine
Variety: Shiraz
Preservation: Keep dry and cool, avoid direct sunlight
Manufacturer: Kilikanoon Wines PTY., Ltd.
Address: Penna Lane, Penwortham South Australia 5453, Australia
Importer: Viet Nang Pty., Ltd.
Address: No. 4, Tran Hung Dao St., Hoan Kiem Dist., Hanoi, Vietnam
Instruction: Drink directly without thermal usage. May take together with red meat, smoked salmon, cheese or snacks.
Certificate No: 11778/2017/ATTP-TNCB
TASTING NOTE
PLACE
Clare Valley.
The Covenant is a blend from selected vineyards located in the Clare Valley.
WINEMAKING
Selected parcels of Shiraz were harvested and fermented separately across a range of vineyard sites and allowed to mature in a range of new and more seasoned small French oak casks for eighteen months. The wines complexity and ageing potential further enhanced by bottling the final cuvée unfined and unfiltered.
SENSORY
Colour: Brick red in colour with youthful crimson hues.
Aroma: Lifted and commanding, the nose reeking of fresh licorice, riper plums, liniment, hints of soy sauce and smoky char.
Palate: Richly flavoured with a strong linear focus, supple tannins and a long finish, the palate carries over sweet plums, fresh licorice and soy sauce in addition to introducing savoury meats and charcuterie to the mix. Perfectly encapsulated the regions precision and personality.
ANALYSIS
Residual Sugar: 2.2 g/L
Alcohol: 14.5% v/v
CELLARING
Potential of at least 15 - 20 years with careful cellaring.
SPECIALIZED GIFT BOX WITH PURCHASE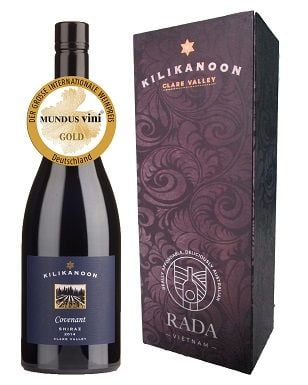 AWARDS & ACCOLADES
GOLD MEDAL (2016 VINTAGE) - 2019 MUNDUS VINI GRAND INT'L WINE AWARD