FINO Greek Forest Honey is your daily pleasure and our daily work! Since 1928, we are committed to offer the best honey varieties Greece produces. FINO Greek forest honey with its subtle, mild taste enjoys worldwide recognition, awards, quality certificates.
FINO Greek Forest Honey stands out for its delicate and rich flavour. It is unique because it is a combination of premium selected honey varieties from the forests of Central Greece and Macedonia.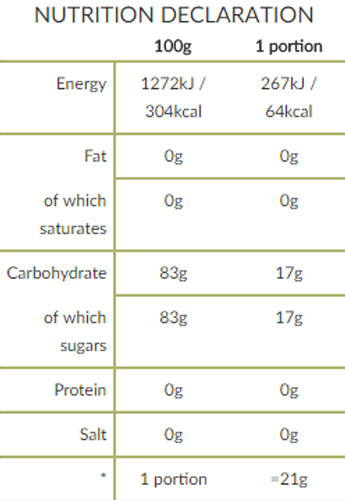 Nutritional analysis of FINO forest honey. (Table: Delimera)
Price: VND 119.000 / pack
Net Weight: 100g
Type of Honey: Forest honey
Brand: Fino
Packaging: Smart pack
Ingredients: 100% pure & natural forest honey
Origin: Attiki Bee Culturing Co., Alexandros Pittas SA, Greece
Address: 8 Protomagias St., 145 68 Kryoneri, Athens, Greece
Usage: To be taken directly or mixed with drinks / meals (tea, fried chicken, yogurt, etc.).
Storage: Store in cool and dry areas below 30 degrees C. Avoid direct sunlight.
EXP: 2,5 years from production date
Importer: Delimera Vietnam Co., Ltd.
Address: Level 11, Geleximco Building, No. 36, Hoang Cau St., O Cho Dua Ward, Dong Da Dist., Hanoi.
Food Safety License Number: 22559/2016/ATTP-XNCB
Honey has been used by countless cultures all around the world over the past 2,500 years. While the numerous health benefits of honey have made it an important element of traditional medicines such as Ayurvedic treatments, scientists are also researching the benefits in relation to modern medicine, particularly in the healing of wounds.
But what makes honey so popular? Most likely, it is the ease with which it can be consumed. One can eat it directly, put it on bread like a jam, mix it with juice or any drink instead of sugar, or mix it with warm water, lime juice, cinnamon and other herbs to make a medicine. It is savored by all due to its taste as well as health benefits, making it extremely useful and versatile.
Its benefits also include the following:
Prevent from cancer and heart disease » Honey contains flavonoids, antioxidants which help reduce the risk of some cancers and heart disease.

Reduce ulcers and other gastrointestinal disorders.

Increase athletic performance

Reduce cough and throat irritation