Meet Joly Red. A sweet, crispy apple with an intense red color. Perfect to eat fresh. Because of the strong peel, you can store a Joly Red for a long time. Which means: more time to enjoy the apple!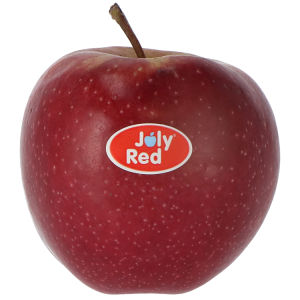 A Dutch Joly Red apple. (Image: Fruit Masters)
Joly Red is a ruby red apple and was created as a cross between Wellspul and Selektion 104 Cultura Moors. In the Netherlands, Joly Red is mainly grown in the South of the country: the beautiful Mergelland. The flesh is bright and yellow and has a sweet taste.
Why Joly Red?
Joly Red is a delicious, sweet, crispy apple

Joly Red Is big, has a round shape and a beautiful red color

Joly Red has a popular taste

Joly Red can be stored longer
Price: VND 200.000 per kilogram
Origin: The Netherlands
Brand: Joly Red
Apple color: Dark red
Packaging: Tray of six apples
Average weight:
1.4kg - 1.6kg per tray of six
250gr - 270gr per apple
Grower & exporter: VINEDSTAR B.V
Address: Grotestraat 67, 5931 CT, Tegenlen, the Netherlands
Importer & distributor: V-Stars Import-Export JSC (Hanoi)
Storage: Refridge the product at the average temperature from 4 to 8 degrees Celcius.