Customer satisfaction is our main goal and quality is the key to achievement. Therefore the strictest standards of hygiene areimplemented. Furthermore, an extended HACCP system is fully operative and awarded with a BRC, IFS and certificate of autocontrol of the FASFC.
Price: VND 90,000 per kilogram per pack
Net weight: 1kg
Brand: Ecofrost
Origin: Belgium
Status: Frozen
Ingredients: 95% potatoes, 5% non-hydrogenated vegetable oil
Nutritional ingredients: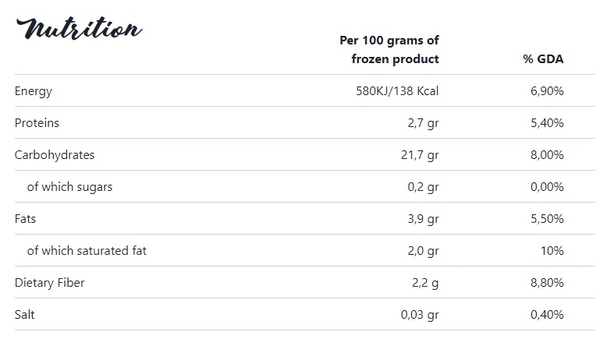 Usage:
- If using an oven or an air fryer: Fry at 220°C for 12 - 15 minutes.
- If frying on a pan: Fry at 175°C, submerged in oil, for 3 - 4 minutes.
Manufacturer: Ecofrost
Address: Rue de L'Europe 34, B-7600 Péruwelz, Belgium
Storage: Store at -9 to -18 degrees Celcius
EXP: 02 years from date of production
PRODUCTION
By using the newest technology, we are able to offer you a high quality product - a product with a rich taste, nice texture and a crispy feel.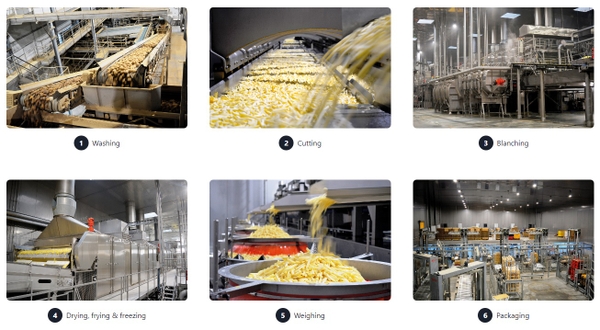 6 steps of producing Ecofrost French fries. (Image: Ecofrost.be)
ABOUT ECOFROST
Ecofrost Inc. is a young Belgian Company, situated in Peruwelz. We are specialists in frozen potato products, mainly deep-frozen fries.

Ecofrost Inc. is founded by four people. Pol & Dries Vervaeke, coming from a family of three generations dealing in the potato trade, have provided knowledge of the raw material, the fresh potato, together with Luc and Marc Hoflack who provide the practical experience gained from 35 years in the business of freezing vegetables. Together they provide a perfect synergy which creates a new signature in the world of potatoes.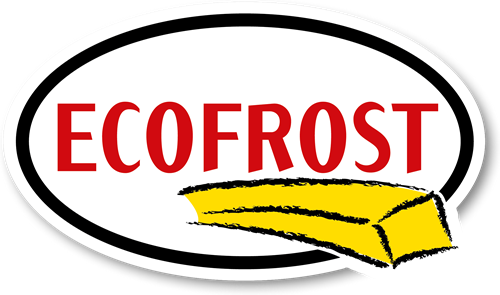 Ecofrost's logo.
Since the Company's foundation in 2003 we have been able to deliver products over more than 110 countries world-wide, and our R&D Department is always ready to try and fulfill the requirements of our international clientele.

The principles of our youthful company are trust, flexibility, team-spirit, service, quality and customer satisfaction - six points that all our employees always have in mind.